I always like to try new foods that uphold the principles I value:
excellent ingredients, delicious taste, affordable pricing and a
commitment to personalizing a wonderful brand. Which brings me to my
latest find: Evelyn's Elegant Edibles (
www.evelynselegantedibles.com
).
Created by Evelyn Pihiou, this company makes a series of amazing rice,
meat, chicken and soup mixes. Forget all the other brands that claim
to do the same thing - I have the facts to prove otherwise - only
Evelyn's Elegant Edibles is the real deal.
I had the privilege of corresponding with Evelyn, and she graciously
answered several questions about her company. I think you'll find her
responses informative and genuine. Please become a fan of her products
-- I am!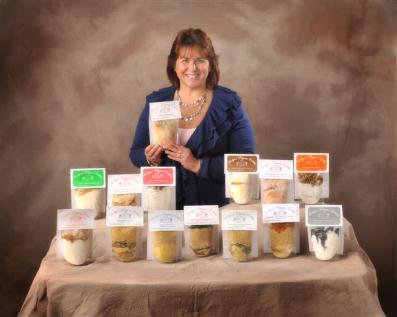 1. What inspired you to create Evelyn's Elegant Edibles?
Several reasons inspired me to create Evelyn's Elegant Edibles. First,
I loved my grandmothers recipe for a holiday rice dish that she made
only a few times a year, which took her two days to make, so I wanted
to find a quick, easy and delicious way to do the same thing. That
recipe became Yiayia's Special Occasion Rice Mix. Secondly, I created
my product line because I love to entertain; and I wanted a convenient
way to cook for a group of people and not be exhausted by the time the
party begins. As a result, I can have a full menu from soup to dessert
ready in an hour.
2. What are some of your personal favorites among the products you sell?
Just like with your children, you hate to play favorites, and they all
have their place in the food chain, depending on what you are in the
mood to eat. But I can always eat Yiayia's Special Occasion Rice Mix;
I love it as my main course, but my husband eats it as a hearty side
dish. Our Gourmet Meatloaf Mix is the perfect comfort food: I created
this dish because my husband loves meatloaf. My husband said to me:
create a meatloaf you would want to eat; and after some trial and
error, this became our most popular mix. My motto on this mix is, "If
you like meatloaf you'll love it; and if you hate meatloaf, you'll
like it." My favorite product within the soup line is Creamy Mushroom
Soup and Stuffed Pepper Soup Mix; and for dessert nothing beats our
Orange Walnut Cake Mix and our Cranberry Walnut Biscotti Mix.
3. Who is your typical customer?
Our typical customer is the busy working mom; but we run the gamut
from college kids, who can cook up a lot of our mixes in a microwave
or hot plate, to grandmas who send our products as gifts to family and
friends. Consumers say our products remind them of old fashioned
cooking, but without all the work involved on their part to create
such a delicious result.
4. What features distinguish your spices and mixes from the competition?
Our mixes are distinguished from other mixes by having a slow cooked
homemade taste. Our products do not have that processed taste; and we
use the best ingredients that we can find. We also do not skimp on our
ingredients. For example: we use sliced mushrooms for the mushroom
soup – and a lot of them! We also hand pack each mix so there is
consistency between packages. A lot of companies blend their mixes,
and sometimes it will have more of one spice than another.
5. What are some of the more popular dishes where your products are a
perfect fit?
Our products are a perfect fit for almost anything. If you want a
quick one-skillet meal check out our Mamma's Mouthwatering Rice Mix:
underneath the label we have a perfect recipe that can turn that mix
and some chicken or shrimp into a perfect one-skillet meal in less
than 30 minutes. Our Burgundy Wine Meatball Mix is the perfect mix if
you want to recreate a good old world spaghetti and meatball dinner.
For a Greek themed barbecue try our Cumin Lamb Shish Kabob Mix: just
add lemon juice, Athenian Rice Mix, Athenian Spice Mix (on green
beans) and Orange Walnut Cake Mix for Dessert. Voila: an easy and
delicious dinner in no time.
6. How do consumers find your products?
Consumers can find our mixes at local stores in the Pittsburgh, PA,
area and they can order everything online at
www.evelynselegantedibles.com, or by calling us directly at
724-746-3141.
7. What products do you plan to release in the future?
We are working on some more soup mixes. We introduced our soups last
winter, and they were such a hit that we are expanding that line.
Also, we are working on beer bread mixes; our customers have been
requesting them along with some brown rice selections.
8. What products are perfect for this time of year?
Summertime is perfect for all of our rices as a side dish, since they
can be made stovetop or microwave. Popie's Pine Nut and Basil Rice Mix
are two of my favorite summertime rices, because they go well with
anything coming off the grill. You can also turn these things into a
delicious cold Greek Salad. (The recipe is underneath the label and on
our website.) The Athenian Rice Mix is also a good one: I eat this at
least once a week instead of a potato as a side dish. All of our
marinades, Athenian Spice Mix, Tuscan Spice Mix, Cumin Lamb Shish
Kabob Mix and Our Honey Glaze Mix are great – and the latter is
perfect to glaze grilled fruit. Remember, fall is just around the
corner and all of our soups would be the perfect easy dinner solution,
including Cincinnati Style Chili Mix, Italian Sausage Soup, Creamy
Potato, Creamy Chicken Noodle and West Indian Pumpkin Soup.
Finally, I have a cute story about my grandmother (Yiayia). As an old
Greek woman who did not think anything good could come out of a
packaged mix, she was very skeptical when I brought her some of my
finished rice. She looked closely at it, smelled it, looked closely
again, tasted it, looked at it again and then rendered her opinion:
the parsley was chopped too fine! I guess I nailed it; if that was
all she could find wrong with it, and as she got older and could not
cook like she did, she gave me the biggest compliment. "Evelyn, bring
me down some Yiayia's Special Occasion Rice Mix, I'm in the mood for
it." Now that's high praise!