As readers of this site know, I have tremendous respect for companies in the food business that combine excellent taste with exceptional quality. Those traits are the key factors that separate successful brands from mediocre products. One company that symbolizes this quest for giving consumers the very best snacks, pasta, noodles and "fusion foods" is Passport Food Group, Inc. (
www.passportfood.com
). Based in Southern California, the company runs Wing Hing and Royal Angelus Macaroni, two stellar brands with deep ties to the Golden State. Founded by families who preserved the rich traditions of their respective cultures, Wing Hing and Royal Angelus now enjoy mainstream appeal throughout the United States.
Dave Abrams, the CEO of Passport Food Group, was kind enough to answer several questions about these wonderful companies. His interview, which you can read below, is insightful and educational. I highly recommend his products, and believe consumers would become loyal fans of the various products Dave oversees. Again, he has my thanks and support.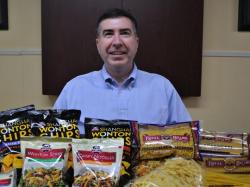 1. Why 'Made in California'? [Lewis explained the point of the campaign to me, and I understand the emphasis on the state's agricultural history, but what inspired you to highlight this point? What other companies, if any, are doing the same thing?]
I've lived in California for 20 years now, and watched as company after company has left the State. California has one of the highest unemployment rates in the nation, and one of the ways we can fix that is if Californians ban together and start doing more business with each other. Creating California jobs creates California consumers, which then creates more California jobs. We are fortunate in California to have one of the most diverse manufacturing sectors in the U.S. – you can just about anything made in California. If I buy more products from my neighbors, they have money to go out and buy the food we make. I can't fix all the problems in Sacramento, but I can help some California families by creating jobs. We've doubled our employee base from 85 to 170 in 18 months. As far as any other companies doing this, I've not really looked. I'm just trying to do my part.

2. In terms of your recent acquisition of Royal Angelus, how long had you been considering this purchase?
I looked at the company for the first time in 2008, before I joined Passport Food Group. The owner at the time was not ready to sell. But I kept calling.
3. What benefits does Royal Angelus offer your company?
Several. First of all, Royal Angelus sells most of it's products to other food manufacturers and retailers, and Wing Hing does very little in these segments. Conversely, Wing Hing's customers are mostly large chain restaurants, and almost all of them buy Italian pasta, and Royal Angelus does very little business. So we can do a lot of cross selling between the brands. Second, we are taking advantage of Royal Angelus' dry pasta manufacturing capabilities to make a dry Asian noodle line, which is a good size market served in part by Chinese imports. I believe we can make a better product here in the U.S. and compete well against the Chinese imports. (Have you ever wondered where all those noodles come from at the local Chinese Buffet where you can get a meal for under $5) And all of our ingredients come from U.S. suppliers! Third, many customers use our Asian wraps for Italian products like ravioli and lasagna, but we have not had a brand to really market them well in that manner. So we will sell fresh ravioli skins under the Royal brand manufactured by Wing Hing, and dry Asian noodles under the Wing Hing brand manufactured by Royal Angelus. Finally, we needed additional manufacturing space for expansion, and the Royal facility came with an extra 40,000 or so square feet that we can use for expansion.
4. Where does Royal Angelus fit within the broader universe of your company, i.e., products, relationships with retailers, brand recognition, etc.?
I think a lot of those answers are in the last question. Our motto "Bringing the World to your Plate" says it all. We are looking to be a supplier of international foods to our restaurant, retail and food manufacturing customers. We started out in Asian, added Italian, and who knows what is next. We want to be the first phone call to our customers looking for product expertise in Asian and Italian products, whether we make those products or not. Our emphasis is on the individual brands, with Passport Food Group as the "mothership".
5. In your press releases, there are references to "fusion foods" between Wing Hing and Royal Angelus. What constitutes a fusion food? How would you define this category?
Fusion foods are any food products that combine tastes, textures and formats from more than one ethnic food group. At least that's my definition. A great example is a "Wonton Taco" – a product we helped to introduce at Applebee's. It's a taco shell made from a wonton skin and filled with chicken, pork or beef. The taste combination is amazing. Try them!
6. What products, from either Royal Angelus or Wing Hing (or both), are your best sellers?
We focus on specialty pastas, like 100% organic, whole wheat, multigrain and challenging cuts like jumbo shells and manicotti. We're the 8th largest dry pasta manufacturer in the U.S., but the other 7 are much bigger than we are, so we focus on more specialty items that the big guys don't want to mess with. We're positioning ourselves as more of a gourmet line, rather than an industrial giant. And we are focusing on the California market. We want to be known as "California's Pasta Company" On the Wing Hing side, we are probably best known for our packaged wraps (skins) for egg rolls, wontons, dumplings and potstickers, but we also make a large quantity of fresh noodles and fried wonton strips and crispy noodles that end up on salads all over the country.
7. What types of products are in development?
I could tell you but then I'd have to shoot you. Just kidding. Generally, our focus is on better nutrition – this can include increased fibers, lower calories, lower salt, lower fat, all natural and organic products, and alternative flours.
8. Please name some of your key audiences or distribution channels.
You name it, we sell there. A lot of our Wing Hing volume goes through the "broad line" distributors, like Sysco and U.S. Foods, in order to get to large chain restaurants all over the country. But we also sell those products through local distributors for local restaurants, national retailers, local ethnic retailers, other food manufacturers and even direct to a few restaurants that have been buying from us for over 30 years when the company was first founded. Royal Angelus products are being sold primarily to other food manufacturers and retailers, but we have started getting those products into the food distributors for some of our large chains. With our focus on California, we are now starting a direct delivery program to restaurants and institutions that want our products, but can't get them from their local distributor. If a customer wants our products, we'll figure out a way to get them our products.
9. Where does the consumer fit within the products you currently offer, as well as those you plan to develop?
At the end of the day, all our products end up in the consumer's mouth, regardless of the primary customer. So we are always developing and manufacturing products that we, as consumers, want to eat.
10. What are some of the benefits/differences between your products and those made by your competitors?
On the Asian side, our products are manufactured under strict food safety guidelines using 100% U.S. ingredients, and our facilities are inspected by several independent auditors who make unannounced visits several times a year. We routinely score "excellent" to "superior" on these audits. I tell our customers that if they are concerned about someone getting sick in one of their restaurants – if they have brand risk – they should buy from us. If they want the cheapest price, they can get their products from somewhere else. Our products are also designed for consistency – our restaurants want their customers to have the same high quality dining experience wherever they are around the country, and we can give that to them. So quality and consistency is really what sets us apart.
On the Italian side, we have been an innovator in ingredients for decades. The company came out with the first vegetable based pasta in the 1970's – "Vegeroni", and introduced the first 100% organic pasta. We now manufacturer reduce calorie, fiber enriched, whole grain, multi grain and organic pastas, along with all the traditional cuts. I guess we are best known for being the "specialty" dry pasta company.